Den Breejen provides comprehensive solutions for your painting needs. After pre-treatment, your ships, yachts, tanks and other industrial and civil works will be conserved at any desired standard of quality.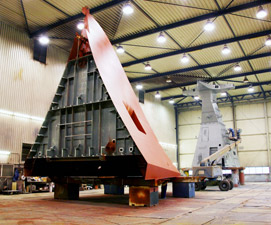 Services Provided by Den Breejen
Painting
The main service provided by Den Breejen is paint work. We will skilfully paint your ships, yachts and other industrial and civil objects according to your specifications. We work with both new and existing ships (under repair) and other objects. Our dedicated professionals are experts in all current techniques, ranging from traditional craftsmanship with brushes and rollers to the (airless) spray painting used in tank conservation.
Den Breejen professionals are unique in their ability to spray large, complex objects to perfection, covering the entire object with a layer of even thickness.
Blasting
Thorough pre-treatment of ships and steel structures is crucial before paint can be applied in the desired thickness. Any chipped or old layers of paint and rust are removed using various techniques. Den Breejen still uses hammers and other tools to remove rust in the time-honoured traditional way, as well as by grit-blasting. Grit-blasting is done in our own blasting halls as well as on location (both on land and in water) using mobile blasting equipment.
Hydro-jet cleaning
Den Breejen uses the very latest hydro-jet technology, with water under extremely high pressure (up to 3000 bar), to remove old layers of paint and rust from steel surfaces. Hydro-jetting has a far lower incidence of environmental hazards than other technologies such as sandblasting. It does not produce dust and is far less noisy in operation. This means less inconvenience for our clients, and allows them to continue with their work even as we are doing ours.
Tank Cleaning
In the shipping sector, Den Breejen cleans tanks in preparation of, for example, Class Inspections. We issue gas-free certificates and hot work certificates. And of course we also clean tanks in preparation for all types of paintwork.
General Cleaning
Den Breejen specialises in cleaning and refurbishing ships in the broadest sense of the word.
Vacuum Cleaning
Den Breejen has multiple vacuum vessels at its disposal, with a total capacity of more than 250 m3. These are used to serve our clients in ports or alongside their ships. If facilities or tanks are farther removed from the water, we use our vacuum trucks with a capacity of 7-19 m3. Capacity can be expanded through various mobile vacuum units.
Comprehensive Solutions
Our partners (shipbuilding and repair yards) and end customers often ask us for comprehensive solutions. Through solid project management, we combine the activities of various operating companies to fulfil all of your requirements in way that is worry-free, effective and satisfactory.
We do
the work
for you