Den Breejen has an office in Galati, Romania since 2001. This office provides services including blasting and painting to local and international clients both within and outside of Romania.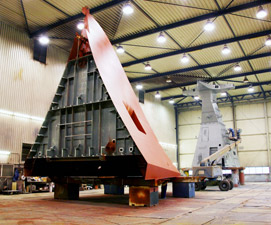 SC Den Breejen Romania SRL
SC Den Breejen Romania SRL is a subsidiary of the Den Breejen Group, specialised in the protection and conservation of metal and other materials. Den Breejen Romania was founded in 2001 after the acquisition of former paint shops at the Galati (RO) shipyard by the Den Breejen Group. A young and motivated international team focuses on local and international projects for our partners and end customers.

Den Breejen Romania blasts and paints newly constructed ships, ships under repair, yachts and other industrial objects such as offshore platforms, wind farms, bridges and storage tanks. Den Breejen Romania has its own blasting hall with all the necessary equipment, and uses the latest technology.
For total
surface
protection
Work carried out on maritime objects in Romania is in compliance with IMO MSC.215 (82) Performance Standard for Protective Coatings (PSPC).